Featured Issues
The VoICE Featured Issues are created to update and inform the global child health & immunization advocacy community and health-related communications stakeholders about contemporary topics where immunizations intersect with health and economics. The VoICE editors follow a topic through different sectors and with different perspectives, to outline its linkages to vaccination and broader development ideas. These features also serve as an illustration of how evidence-based messages, backed by credible data, can be used to communicate important immunization and health benefit messages to the global community. We will often publish these features in preparation for upcoming advocacy events or campaigns.
The Other Pandemic: The Promise of TB Vaccines
What disease has infected millions of people, killing an estimated 1.5 million people a year, without drawing a fraction of the attention of the COVID-19 pandemic? The answer is tuberculosis (TB). New, more effective vaccines are needed to reduce the morbidity and mortality of TB, fight the rising threat of AMR, and address inequities in disease burden and economic impact.
Breaking the Barriers: How Gender Equity Advances Immunization
The COVID-19 pandemic has highlighted and exacerbated existing global gender inequities that impact the accessibility of immunizations to women and children worldwide, influencing their access to health services, education, and economic opportunities. Gender-related inequities contribute to barriers to immunization for people of all genders. Although girls and boys in most settings are equally likely to be vaccinated, evidence has found that advancing global gender equity can play an important role in ensuring all children have access to vital health resources such as immunization.
Why Rotavirus Vaccine Introduction in Nigeria is a Milestone for Child Health
In August 2022, Nigeria became the most recent country to introduce the rotavirus vaccine into its national immunization program. The integration of the rotavirus vaccine into Nigeria's routine immunization schedule is expected to help reduce at least 40% of morbidity and mortality associated with rotavirus infections amongst children.
Leaving No Child Behind: Zero-Dose and UHC
December 12th is recognized worldwide as Universal Health Coverage (UHC) day. Universal health coverage "ensures all people, everywhere, can get the quality health services they need without financial hardship." Equity is at the heart of the Sustainable Development Goal target 3.8, which seeks to achieve universal health coverage and financial risk protection for all.  Immunization equity helps ensure that all children, regardless of where they live, have the opportunity to live a full, healthy life.
Vaccines are Key in Combating Antimicrobial Resistance (AMR)
Antimicrobial resistance (AMR) is a growing threat to the health of children worldwide. New evidence shows how vaccines are one promising way to combat the global spread of AMR. New research on typhoid conjugate vaccines (TCV) shows how immunization can protect children, families, and communities against the emergence of dangerously resistant superbugs.
Integration: Leveraging Immunization for Health System Strengthening
The battle to eliminate polio is one example of how immunization integration can be leveraged to strengthen health systems and build vaccine acceptance. Integration is one of the three pillars of the Endgame Strategy and is highlighted as a strategic priority in the Immunization Agenda 2030 (IA2030) and in Gavi's 5.0 strategy.
World Immunization Week 2021 Social Media Toolkit
With all eyes on vaccines, World Immunization Week 2021 (April 24-30) offers an unprecedented opportunity to build public trust in the value of all vaccines and help build long-term support for immunization. Our VoICE social media toolkit provides messaging for immunization advocates on the vital role that vaccines play in strengthening economies, equity, and health for all people across the globe. Use the VoICE toolkit to share how #VaccinesWork to bring us closer by helping improve the health of everyone, everywhere throughout life.
Join us in promoting the message that #VaccinesWork to bring us closer by sharing these social media messages on the value of vaccines.
The Value of Vaccines: Investments in Immunization Yield High Returns
Vaccines provide incredible value in more ways than one. In addition to saving the lives of millions of children, vaccine programs also provide a high economic return on investment. New research demonstrates the incredible impact and value of vaccination for policymakers.
HPV Vaccines: New Momentum in Eliminating Cervical Cancer
In August of 2020, the World Health Assembly adopted the global strategy to accelerate the elimination of cervical cancer as a public health problem. Vaccines against the human papillomavirus (HPV) can prevent the vast majority of the world's 570,000 annual cases of cervical cancer. Increasing access to the HPV vaccine, as well as screening and treatment, for women and girls living in low- and middle-income countries is an important step for global gender equity, potentially leading to the elimination of cervical cancer within the next 100 years.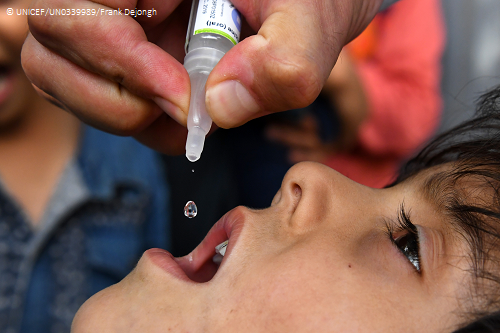 Equity and Immunization: Shrinking the Gaps
Although more children than at any point in history are now protected against vaccine-preventable diseases, millions of zero-dose children are still missing out on the life-saving benefits of immunization entirely. These children often live in the world's most marginalized communities where inequities are clustered and compounded by poverty, geography, gender, and conflict. In order to keep making progress against preventable deaths and illness, leaders will need to integrate equity across global, national, and sub-national immunization strategies.